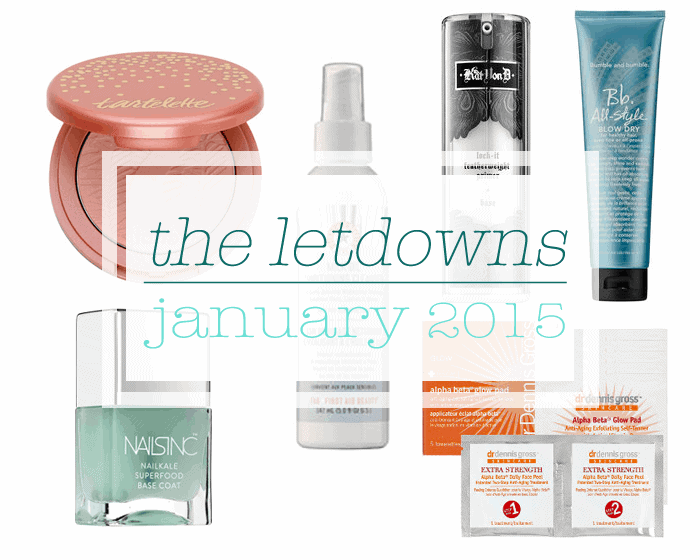 With every month of trying to beauty products (I know I have a problem) there are always a handful of
favourites
and naturally, a handful of fails. January was a particularly full month due a
ridiculous haul
, and there were six products that stood out to me as letdowns, including three I expected myself to love…
Let's start with the product that most pains me to say I didn't get on with shall we? Tarte blushes have been raved all over this blog from the day I started writing it. I own a whopping NINE of them. So naturally when I saw that the brand was releasing the
Tartelette Amazonian Clay Blush in Celebrated
for their anniversary I stalked my local Sephora's looking for it. In the pan it looks like a pale pink (which is NOT what it looks like in the stock image, fyi) but on the skin it translated quite grey and muddy on me. I can see really fair skinned girls pulling this off beautifully, but it made me look full and lifeless.
Speaking of products I thought I would love, the
First Aid Beauty Milk Oil Conditioning Cleanser
promised everything I wanted; a gentle milk that turns into an oil that would remove all traces of makeup including waterproof mascara.
Nope
. the suggested few pumps (the pump pumps out a very small amount of product) barely got my face makeup moving. Ten pumps later and my mascara was still holding on and I knew this wasn't gonna work for me. It just shouldn't be that hard, ya know? This would be great for those who wear very light minimal makeup or who just want to cleanse an SPF away.
Sticking with skin,  knowing I was a fan of the original Alpha Beta Formula, I picked up the
Dr. Dennis Gross Alpha Beta Glow Pads
hoping the self tanner would be the missing link in my tanning routine. Oh they tanned my skin alright… a lovely shade of tangerine. So much so that when I caught myself in daylight the next day I couldn't wait to get home and scrub my face.
Lastly in way of complexion I blogged
earlier in the month
about trying out the
Kat Von D Lock-It Featherweight Primer
. I had huge hopes for this becoming my holy grail primer and at first application it felt amazing – moisturizing and rich on my dry skin to the point where I chose to wear a foundation that normally is a bit dry on my skin during the winter. Through the day though I noticed I was looking a little too glowy, in all the wrong places. So I touched up with some powder.
I never need to powder through the day
. A few hours later the same thing, and my foundation oxidized like nothing I have ever seen before. I've read many rave reviews on Sephora.com about this, but took note that most of them said it was amazing with the Kat Von D Lock-it Foundation, which is notoriously heavy and matte…
In terms of hair, I tried out
Bumble and Bumble's All Style Blow Dry
; their newest offering. It claims to smooth frizz, extend style and infuse the hair with micro fine powders that keeps it clean feeling longer. I tried this several times on my super straight, very fine very thin hair, and felt like it made first day hair really frizzy and hard to manage. My second day hair is usually a ponytail, which it did look nice for, but $37 CND for a hair product that makes your hair look like crap for the first 24 hours goes back to the store in my books!
Lastly in my quest for a new base coat I picked up the
Nails Inc NailKale Superfood Base Coat
 and all ridiculous 'kale' claims aside, I really thought would be great given I love the Nails Inc polishes. Unfortunately this chipped like a mofo on me… only a few hours after first application. I tried it several times after that and still couldn't get through a day with my manicure.
Bummer. 
Of course these products were just fails for me, they might be total wins for you. If you've tried any of these good or bad, let me know your thoughts in the comments below!
xo Jaime
Some of the products and/or services mentioned in this post may have been provided for consideration and are denoted with an "*". These products may be linked using an affiliate link, which provides me with a small commission in return for providing readers with honest and authentic reviews. The earnings from affiliate links are what keep GirlLovesGloss.com running! You can read my full disclaimer here.