Its no secret around these parts how much love I hold for the Clarins Instant Light range – my deep rooted love for the
Instant Light Lip Perfector in #05
is tossed around plenty here, and I'm also a big fan of the
Instant Light Illuminating Base
. So naturally when word started getting 'round that there was a lip oil coming out, I started stalking my local Clarins counters (im)patiently waiting for its release.
Clarins Instant Light Lip Comfort Oil
claims to be
"

A comforting oil that immediately soothes lips and nourishes them while leaving them beautifully shiny with natural-looking colour. Its rich texture develops a protective, non-sticky film on the surface of the lips. Protected from dehydration, lips are supple, soft and look plumper".
The texture is nothing you would expect with something that has 'oil' in the title – it's quite thick with a honey like texture. While it claims to be non-sticky, I'm going to be honest here and say that I do find it sticky, but more so after it has been on my lips for a little while. Right after application my lips look glossy and plump, but I do find it absorbs in a bit and some of that glossiness dissipates. it's up to you to decide if that is a pro or con to this product.
Released in two shades flavours,
Honey
and
Raspberry
(which I've been told is limited edition) I picked up the Honey, which goes on completely clear and was the nicer smelling one to my sensitive nose (the Raspberry smelled quite medicinal to me personally). The Raspberry appeared to have a pinked up purple tint in the tube, but also went on totally clear, so a heads up for those hoping it would be a 'stain' of sorts.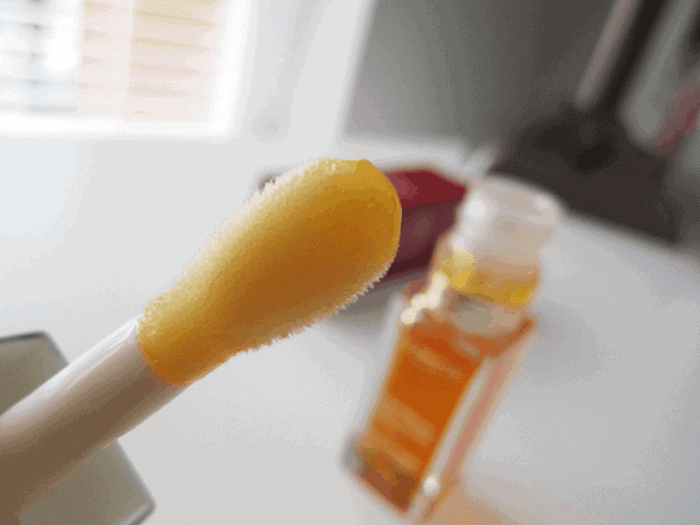 I will say the applicator on these is awesome. Its like a beefed up doe foot that is super soft and spongy and makes application a synch. Overall it was very nice to apply, but fell a bit short for what I was hoping out of the product – which was more of a nourishing oil, and less of a gloss. Those of you who want the sheen of a clear gloss but not quite as sticky in texture will love this. Those who were looking for a more balmy like feel like myself may not feel the hype as much.
Let's put it this way, it won't be replacing my one true love, the Instant Light Lip Perfectors anytime soon, they still win hands down for most moisturizing lip product, colour or not. (side note, Clarins has come out with Instant Light Lip Perfector Sticks recently as well, which are a nice balm, but definitely more sheer in colour than the original formula)
Have you tried this or the other Clarins lips products mentioned? What is your favourite nourishing lip balm? Leave me a comment below!
xo, Jaime
Some of the products and/or services mentioned in this post may have been provided for consideration and are denoted with an "*". These products may be linked using an affiliate link, which provides me with a small commission in return for providing readers with honest and authentic reviews. The earnings from affiliate links are what keep GirlLovesGloss.com running! You can read my full disclaimer here.