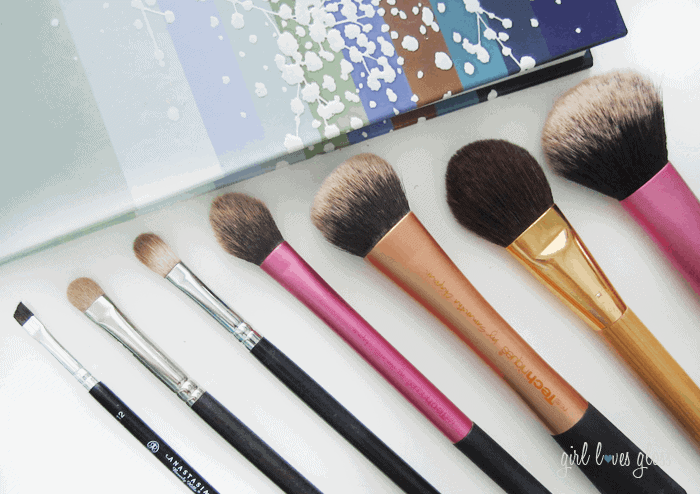 When it comes to makeup brushes I have a just a few (total blatant lie, that was) Over the years I've used very pricey brushes, very inexpensive brushes and a whole slew inbetween – these are the ones I use every single day.
From Left to Right in the picture above:
Anastasia Beverly Hills Brush #12
has an awesomely thin yet dense angled brush on one end and the forever needed spooly on the other. It never leaves my barely there brows looking crayoned on and is nice and still so you can get super fine detail if you want.
MAC 239 Brush
is the classic flat shading brush that I always go back to. It is nice and flat so you can really pack on the colour, and stiff and tapered enough that it doesn't kick back powder or glitter.
MAC 217 Brush
– need I say more? It is the ultimate crease/blending brush and a classic cult favourite in the beauty world.
Real Techniques Setting Brush
makes setting your under eye concealer easy peasy and keeps too much powder from collecting there. Flawless every time, and it gets into the inner corner perfectly, which is a place that tends to show wear first if you don't set it.
Real Techniques Expert Face Brush
is my foundation brush of choice – it just buffs in thicker formulas so flawlessly. The bristles are super soft, and super dense but stiff have movement to them.
Tarte Blush Brush
is no stranger to this blog – you all know its the only blush brush I use for the job. Something about the softness of the hairs and the shape of the brush just gets the apples with just the right amount of product every time.
Finally Real Techniques does it again with their
Multi Task Brush
, also known as my bronzer brush and powder brush of choice. This thing buffs on bronzer like you've spent a day in the sun, and I keep another one for softly patting on setting powder. The bristles are so soft it doesn't disturb the rest of your makeup but still deposits enough product to get the job done.
What makeup brushes do you use every single day?
Some of the products and/or services mentioned in this post may have been provided for consideration and are denoted with an "*". These products may be linked using an affiliate link, which provides me with a small commission in return for providing readers with honest and authentic reviews. The earnings from affiliate links are what keep GirlLovesGloss.com running! You can read my full disclaimer here.