It's the last day of the year (ohh that sounds to dramatic doesn't it?) quite literally and your night might involve some or alot of bubbly, inevitable alcohol infused sweaty dance face and a possible kiss at midnight. It's a night with a lot to live up to every year, so here are my picks for products that can stand up to the hype.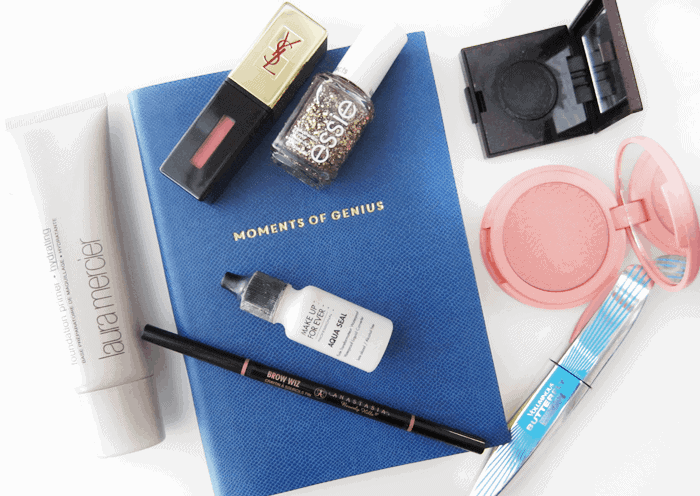 Ace of Base:
Prime that face girl. In the wee hours of the morning when everyone is tipsy and has forgotten the point of cameras, who cares. But in the early evening though, there will be pictures, and you want your makeup to hold out as long as possible. I love
Laura Mercier's Primers
for this, with special nod to the
Hydrating
formula.
Power Brow:
I always look a bit better in photographs when I've paid special attention to my brows looking on point (and my surprisingly decent recent Drivers License is the proof of this). So get out a fine tipped pencil like the
Anastasia Beverly Hills Brow Wiz
and tidy those babies.
Now would also be the time to whip out the tweezers and make sure your brows aren't touching in the middle.
Cheekbones, Please:
I'll always reach for my tried and true blush formula when I know the cameras are out, otherwise things get a little moon facey for this girl. Without a doubt my favourite is the
Tarte Amazonian Clay 12 Hour Blush
; Does what it says on the package and actually lasts all day and night on my skin which normally eats blush by breakfast.
If You Can't Glitter On New Years, When Can You?:
Get out the glitter polish, now is the time if any time to rock plenty of glitter. I'm loving the bronzy hue of
Essies Summit of Style
. Toes and tips, because why not?
Kiss Proof Pucker:
Yep, its the end of the evening and you're going in for it…
you and ________ might be sitting in a tree, K-I-S-S-I-N-G
. For the sake of that person I vote you opt for a long wearing transfer resistant product like my forever favourite,
Yves Saint Laurent Rouge Pur Couture Glossy Stain
. This looks glossy and pigments for ages by transfers a minimal amount. I love shade 27 for peachy pink goodness, and 16 for a pinky purple pop.
What makeup will you be ringing the new year in with?
Some of the products and/or services mentioned in this post may have been provided for consideration and are denoted with an "*". These products may be linked using an affiliate link, which provides me with a small commission in return for providing readers with honest and authentic reviews. The earnings from affiliate links are what keep GirlLovesGloss.com running! You can read my full disclaimer here.