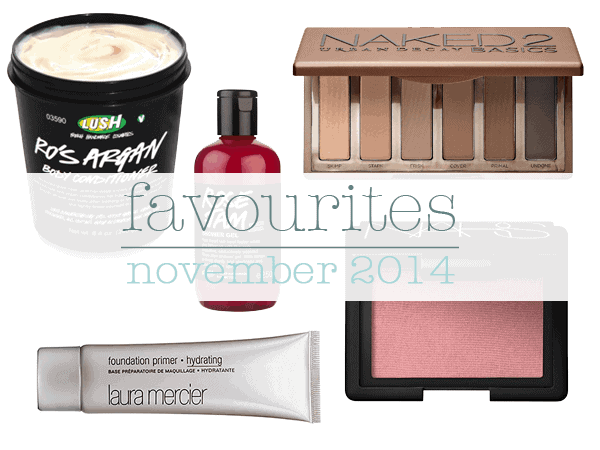 Holy heck it's December folks! That means it's time for my to round up a handful of my favourite products from the last month and gush about why they're awesome. Sound good? Thought so.
1. When it comes to primers Laura Mercier has it in the bag. I recently picked up the Hydrating option after knowing full well how good the original is, only to find out this one is even better. My skin looks well rested and plump, my makeup lasts and stays fresh all day. Basically it does what it promises!
2. Lush Ro's Argan Body Conditioner paired with my #3 favourite, Lush Rose Jam Shower Gel makes the most heavenly smell you ever did smell. Real rose lovers need these in their life! I wrote a post all about the Ro's Argan here, and Rose Jam is just around the holidays so stock up, I've got me a jumbo bottle!
4. I wasn't fussed by the first one, but the Urban Decay Naked Basics 2 Palette is all kinds of gorgeous. While I normally steer closer to warm browns, something about these colours really make my green eyes pop. The first day I wore these I had two strangers ask me about my eyemakeup. You know it's good when…
5. The innocent blush with the naughty name – Nars Deep Throat. Its a gorgeous peached up pink that leaves a subtle glow (no glitter bomb here!) that just seems to make my complexion look ah-mazing. It was love at first blush.
What were your favourites this month?
Some of the products and/or services mentioned in this post may have been provided for consideration and are denoted with an "*". These products may be linked using an affiliate link, which provides me with a small commission in return for providing readers with honest and authentic reviews. The earnings from affiliate links are what keep GirlLovesGloss.com running! You can read my full disclaimer here.