With every month of new found, or re-found favourites, there are bound to be some flops, it's the nature of the game when you try so many new products all the time. July was no different and I have 5 beauty products just just didn't do it for me. Here's why…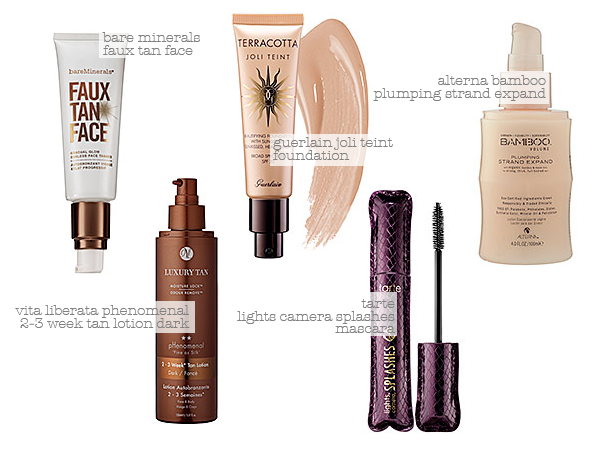 Click on the product name to find them online
In way of self tanning products I have two flops this past month, unfortunately. In the face department
Bare Minerals Faux Tan Face
just didn't do anything and was much too subtle for my liking. The uber pricey
Vita Liberata 2-3 Week Tan Lotion in Dark
was a massive let down for me…. and my sheets, and pillow case, and duvet cover… you get the point, this stuff stained like I was trying to tan my entire bed linen. The colour was amazingly dark and rich- until it completely washed off in the show the next morning. Considering this was $65 CAD it went right back to the store.
I got a chance to try out the
Guerlain Joli Teint Foundation
recently when I had my makeup done at one of my local Sephoras. I had been curious for a while and was so glad I tried it on full face before purchasing, because it caked up, and almost balled up in my nose as if it wasn't sticking to my skin for lack of better description. No thanks!
Another big disappointment in the makeup side of life was the
Tarte Lights Camera Splashes Mascara
, the waterproof version of their brand cult favourite Lights Camera Lashes. I actually like the original formula and think it is very good, but the waterproof version was super wet, took forever to try (seriously, I blow dried my hair and it was still smudging around my brow bone!) and not all that waterproof. Bummer.
Finally, I tried to beef up my pathetically thin fine hair this past month with the
Alterna Bamboo Plumping Strand Expand
. I read plenty of good reviews on this, but my wimpy hair felt sticky and weighed down. If anyone out there has a recommendation for a good thickening hair product that wont leave my hair feeling parched from a hideous amount of alcohol in the ingredients, or totally weighed down, please let me know!
As per usual – if these are your favourite products of life please don't be offended! They just didn't work for me! What products let you down last month? Which pleasantly surprised you?