While I am responsible for my fair share of fall in love at the store and impulsively buy it moments, occasionally I am a bit more responsible and get a sample to try before I buy. I've found out I loved, and hated, many products this way, and here's a few I am so glad I was given the chance to try, because I may never have taken the plunge without the nudge.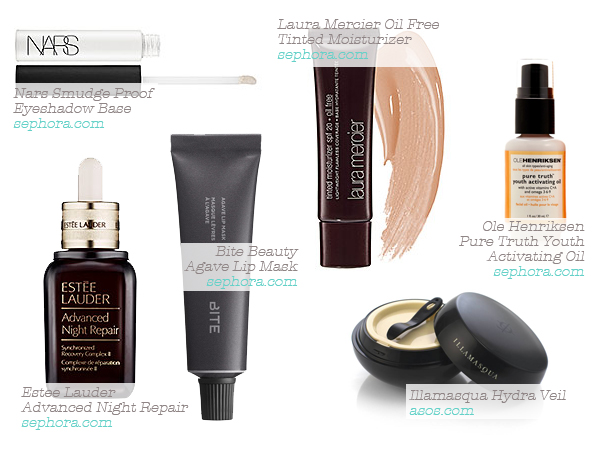 Nars Smudge Proof Eyeshadow Base
hands down beat out any others the minute I tried it for the first time. I got a small 100 point perk of it at Sephora not long after it was released and it hands down keeps my shadow looking fresh and bright until I take it off a night. Nothing beats it for me.
Estee Lauder Advanced Night Repair
has been lauded for years, but the price tag turned me off from buying. I got a mini in an order not long ago and can honestly say I saw the results the very next morning. I don't know if I've ever fallen for a skin care product so fast… except possibly my next pick, which is the
Bite Beauty Agave Lip Mask
. You all know how much I love this so I will just say it started with a tiny sample squeezed into a pot at my local Sephora and I was back to buy it within a week. Likewise, the
Ole Henriksen Pure Truth Youth Activating Oil
was part of a kit I bought at Sephora this winter, and my skin really enjoyed it right away. Within a few uses morning and night, I knew it would become the thing I reached for when my skin needed that extra bit of moisture or was looking a little uneven in tone.
When it comes to bases, I like to try before I buy and the
Laura Mercier Oil Free Tinted Moisturizer
gave me doubts because its sister the original formula didn't offer the coverage. I was so glad I tried this though, because the finish is lovely, and its coverage is much more than any tinted moisturizer I've tried. Of course, under all my bases I reach for my
Illamasqua Hydra Veil
– which started out as a sample when I bought my beloved
Skin Base Foundation
. I knew the instant I tried it that it was unlike any other primer I'd tried. Nothing keeps my face makeup looking like it did first thing in the morning all day long like this stuff.
What products did you fall in love with after trying a sample or a mini?
Shop this Post:
Some of the products and/or services mentioned in this post may have been provided for consideration and are denoted with an "*". These products may be linked using an affiliate link, which provides me with a small commission in return for providing readers with honest and authentic reviews. The earnings from affiliate links are what keep GirlLovesGloss.com running! You can read my full disclaimer here.